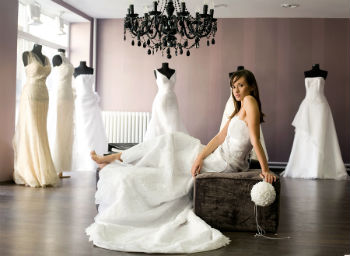 After countless hours searching through all of the wedding dresses in Orange County, you've made your purchase, and you've probably been dreaming of all the scenarios of you walking down the aisle every night since. You've probably taken a hundred photos of it stored on your phone while telling yourself every morning not to post it online to keep the mystery alive up until that fateful day. If you're the one who designed your wedding gown, I can only imagine the intense affinity that you'll have to it seeing as to how it is even more a part of you than something you can buy in the store. As a would-be bride, you have every right to feel as giddy and as beautiful with the dress that you'll be looking back to for the rest of your life.
A lot of brides (with or without their grooms) spend a lot of time preparing and looking for the perfect dress. Some can change preference as often as every week or every day, much to the dismay of their designers (patient as they probably are). Nobody can blame a bride for her misgivings and the whole wedding party can do nothing more but support her along the way. So just imagine the relief of everyone when she finally gets to stick to a design and see it through until the final touches. We all can let out a sigh of relief, but brides, know that the world does not stop with just the perfect dress.
There are a lot of things to consider after dress shopping and this is probably something that you haven't quite got in your mind yet. Well, don't fret as this will be your to-do list in the month or two to come after you've received your wedding dress.
1. Shop for appropriate garments.
You've heard this once or twice from your designer or sales consultant. You need to get that strapless bra and bridal slip. Pronto! These are the little things that you just could not afford to miss and just remember a day before or on the day itself. Go for some underwear shopping and make sure to find the undergarments in the right tone and fabric as required by your dress. It will not only complete your outfit from the inside, but will keep you comfortable as well during the day-long festivity. If you're unsure what to get, ask the specifics from your designer and research it online so you'll know which shops or labels carry your requirement. This will save you time and effort and allow you to prepare a budget for it as well when shopping for wedding dresses in Orange County.
2. Schedule an appointment with your trusted alteration expert.
Especially for brides who purchased their dresses online, schedule an appointment with your alteration expert a day or two after your dress is scheduled to arrive. This will allow you to immediately correct any fitting mistakes and have ample time to have it redone. Rushed work is usually haphazard and you just don't want that for the most important dress you'll ever wear. If you don't know anyone you can trust with the job, try to ask some friends for recommendations or search bridal sites and forums on most recommended fitters. Once you've found one, make sure to inquire about his or her timeline and follow up with him or her once in a while re the progress of the work. Follow these tips if you're searching for beach wedding dresses online, as well.
3. Shop for appropriate accessories.
You might have the accessories down with the 'something borrowed, something new, something old, something blue' adage, but it is always best to cross check this with the actual dress by trying it on at home. If something doesn't seem to fit, it's best to set a date with your mom or grandmother to find the right accessories for the dress. The right accessories can highlight the dress' simplicity and enhance its best features. Some accessories need not be expensive, they need to be exact. You can sort through bridal magazines for wedding dresses similar to yours and see what the models are wearing with it. Accessories don't necessarily mean just jewelry like earrings and necklaces. It can also be beautiful head pieces that draw attention to your upper body where the intricate details of your dress lie. All of this will come into play when working with your Orange County wedding photographer, as well.
4. Arrange for any special arrangements your dress will require.
First off, purchase a garment bag for your dress. You might not want to lug around the box that it came in from your home to the hotel you'll be staying in before the wedding. It is also not advisable to keep it in its box especially if the fabric creases easily. Garment bags can protect your dress from dust, tears and other particles that might ruin or stain it. You may request one from your designer or just get one at the department store. Also, if you are choosing a beach wedding dress, there are additional considerations when it comes to long-term garment storage.
If you're having a destination wedding, make transport arrangements for your wedding dress. You might want it shipped before the wedding so arrange for someone you know and trust to pick it up on the other end. If there's no one, you might need to purchase a seat on the plane for your precious dress or pack it in a box with an 'Overly Fragile, Handle with Care or Answer to Bridezilla' sign.
Once you've gotten all your wedding gown affairs in order, you can focus on the other important things on your list like Orange County wedding DJ's, bridal portraits and taking your soon-to-be groom on tours of the countless wedding venues in Orange County. Try to get some down time as well before the wedding so you can breathe some air and get things in perspective. If you need to spend some time to yourself, go ahead and do so. It can be just within your area or a quick escape out of town. Take your hubby with you as well so you can get away from the hustle and bustle of the wedding craze.
To make sure you're the perfect blushing bride on your wedding day in beautiful Orange County, make a checklist of all the requirements of your wedding dress. From undergarments to accessories to shoes, you need to get everything aligned so you'll not only walk the aisle, but Rock It as well.
by Kerry Johnson – Follow Kerry on G+!