Beach Formal or Beach Casual?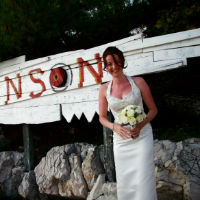 As if wedding planning is not a tough job as it is, a number of daring couples would go ahead and choose to have a destination wedding. Destination weddings are creative, out-of-the-box ways of tying the knot and treating friends and family to a romantic and relaxing experience in intimate surroundings. Most destination weddings are held at metropolitan resorts, vintage estates or at beaches and other tropical locations. The beach wedding is probably one of the most popular destination wedding themes because of the wonderful backdrop of nature and the vibrant energy brought by the sun and waves. Orange County California is one of the more popular destinations.
Choosing to have a beach wedding is as fun as it is challenging if you are a would-be bride. I'm pretty sure you've got someone planning the logistics as beach weddings entail bringing all your friends and family to a certain location (especially if it's halfway around the country or even the world!), not to mention touring the many wedding venues in Orange County. When you've covered most of the accommodation and wedding day arrangements, let's sit down, take a breath and talk about your wedding dress.
You are the star of the show, the guest of honor, the bride. You are the one person everybody in the room (or the shore) will have eyes for and not to put any pressure, you'll have your face and very own hashtag circulating Instagram and Twitter from morning til evening of your wedding day. You will look more gorgeous and fabulous than J. Lo ever was on all of her weddings. But first you'll have to answer this basic question—beach formal or beach casual?
Formal or casual will not only apply to search for beach wedding dresses, but to your guests' dress code as well. While the beach is a fun and laidback environment, it would pay to set some simple rules on your wedding day to make sure that everybody turns up just as they should. For the most important dress of the day (your wedding dress, silly!), here's a rundown of the difference between beach formal and beach casual to help you decide which wedding dresses Orange County you'd rock best.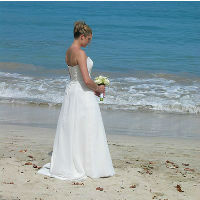 Beach Formal:
Details, details, details. Details are keys to a stunning wedding gown on a radiant bride in the morning. The sun is up and your groom's face shall light up when he sees you walking down the aisle in a silk georgette dress that simply flows down to your ankles, wrapping you in sheer elegance. As a general rule, longer beach wedding dresses speak of greater formality and would be a great mix of traditional and modern given the location of your wedding. The early morning sunlight will draw more attention to your dress and accessories so you have a lot more liberty to play it up. Go for intricate beading or patterns but leave the sparkles for nighttime.
Weddings set in the evening call for a bride with a lot more glitz and glam. Bring on the sequins in a formal gown and walk down your sand-strewn aisle like J Law at the Oscars. Simple gold and silver accessories will work great with formal gowns although pearls are always a go-to for traditional brides. Keep in mind though that your accessories should give way to the details of your dress. If your dress has an intricate bust design, go for stud or simple drop earrings and forego the necklace. It is also best to keep your hair coiffed to keep the formal, but dazzling look together.
Beach Casual:
If you're thinking about flip flops, then stop. Although technically it's your wedding and there's no way I'd be able to stop you in reality. But do take my word for it, you can feel laidback but look elegant at the same time. Just read through this bit to discover how. Beach casual is more of a linen-and-jersey kind of thing. Linen is a soft and breezy fabric that holds up white just as well as other materials. If you want to be as thematic with your surroundings as possible, go for a knee-length beach wedding dresses that will not only provide you with more ease and comfort while walking on the sand, it will show off your amazing calves as well. Plus, your Orange County wedding photographer will thank you.
Column wedding dresses for the beach with flowing details will mimic perfectly the ebb and flow of the waves and will make you feel elegant without all the fuss of a formal dress or a train. Go for short wedge sandals with your knee-length dress to add height and create the illusion of length for your lower body. Steer clear of stilettos as they would not mix well with the sand and might cause you an injury if you trip (oh no, not on your wedding day!).
Choosing one of the wedding dresses for the beach will allow you to play with different kinds of accessories. Colorful bangles or statement necklaces will speak volumes about your fun-loving personality. It will also add a dash of excitement to your guests' vision of white. You might also want to add flowers on your hair for a playful take of the coiffed up 'do, or you can just let your hair loose with a shell-designed hair clip to keep it away from your face when it gets windy.
There's no one straight rule for choosing beach wedding dresses. Going formal or casual has their ups and downs and there will be challenges to face either way. But the fact that you went for a destination wedding already means you're up for all the work and adjustments that comes with the territory. If you're unsure how to choose, fast forward to your wedding day in your head and think about what you'd probably be doing then. Are you the bride who sits lovingly beside her groom holding hands and watching the entertainment unfold? Will you be the one going around every table hugging all your loved ones and dancing with your best friends on the dance floor? Imagine the challenges your dress will be facing on your wedding day—whether it be the sand-strewn aisle or your Dancing-with-the-Stars-worthy moves.
Once you answer these questions, you're likely to have an idea whether formal or casual will work for you. When you do, go get 'em tiger!
Wedding Venues in Orange County