Wedding Reception Decorations On A Budget
When we think about weddings, many of us just picture the ceremony. For most guests, however, weddings begin at the reception. The wedding reception is also where the bride and groom also get a chance to relax and loosen up. Often, planning for the reception is far from relaxing. This can be doubly true if you are working with a tight budget. Fortunately, there are many ways we can stick to our budget and still have elegant, fun and memorable wedding reception decor. If that's the case for you, don't worry. Below are 9 inexpensive ideas for decorating the wedding reception.

Perfect Ways to Keep Reception Decorations on Budget
1. White Christmas Lights or Lanterns
Your Christmas lights can come in handy when you want to save money on your wedding reception decorations. The lights can be a great addition for your reception. For instance, white lights might be hung around tables, potted plants or hung from the ceiling to add some elegance. If you don't fancy using Christmas lights, you can use affordable paper lanterns.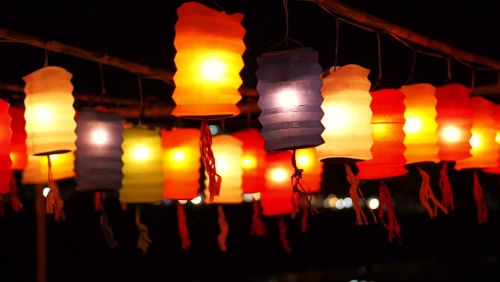 2. Add Candles or use them exclusively
As far as lighting decor goes, you can add candles or use them exclusively to give your wedding reception a more romantic feel. Dim lighting creates the perfect atmosphere for romance. Candles are perfect for doing this. Furthermore, they are cheap and come in a wide variety allowing you to create the perfect reception environment for you and your guests.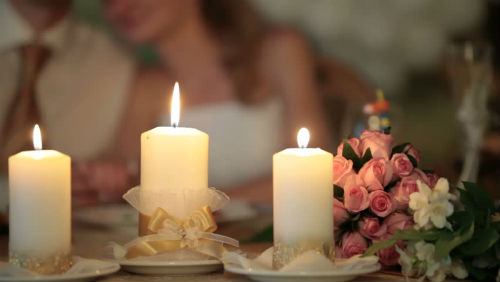 3. Tie Ribbons on Chairs
Renting covers for seats can be a very costly affair. Making them is even more costly. Rather than seat covers, consider using ribbons which are a better, cheaper alternative. You can get the same outcome by tying beautiful wide ribbons at the back of all your chairs. Ribbons are way cheaper and often more attractive than the usual seat covers. You can ask your friends to help you get the best ribbons for your big day.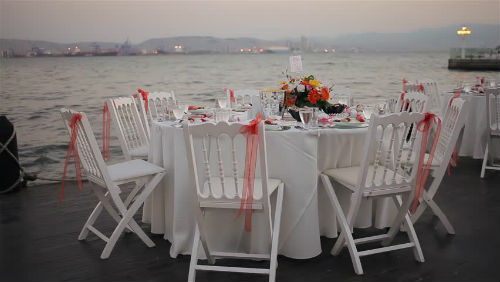 4. Make Use of a Unique Water Feature
A water feature i.e. a fountain is always a great addition to any celebration venue. As a result, consider adding a water fountain at the entrance or anywhere else you see fit in your reception. The fountain doesn't have to be big. A small or medium sized one will work perfectly. You can even use the one you have at home to maximize on savings. Water fountains are very refreshing and relaxing at the same time so adding one will create the perfect wedding reception environment.  Many wedding venues in Orange County have fountains you can incorporate into your reception.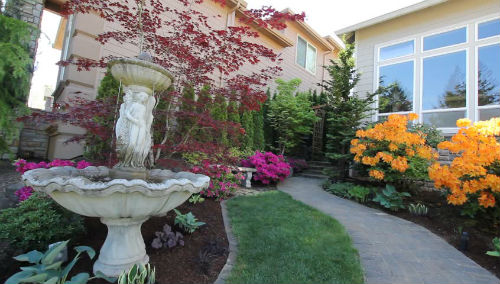 5. Use Feathers
You can also use this popular wedding decor trend. Many wedding receptions today feature feather decorations. You can buy feathers from your local Arts and Crafts store in bulk and create feather wreaths which can be hang on walls or added to other decor such as flowers to create an elegant but inexpensive look.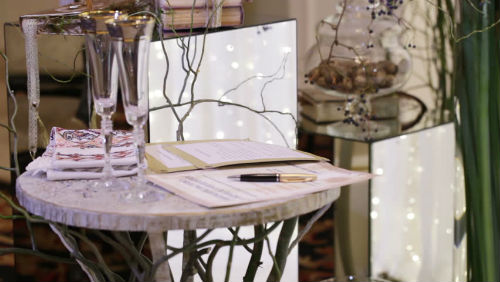 6. Food as a Decoration?
Yep! You can also use wedding food and drinks as decor. You just need to display and arrange the food perfectly on platters. Fruits and salads are great for adding a decor twist. You can also use a huge assortment of apothecary candy jars on your dessert bar to create a perfect celebration mood. To create an organic feel, consider using rustic bread, farm cheeses and gorgeous trays. Let your imagination run wild in the process.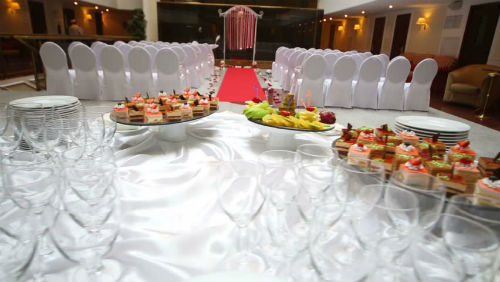 7. Cover with Fabric
Covering your tables, draping etc. with your favorite fabric will also make the reception look better at a fraction of the cost of using other kinds of decor to achieve the same outcome. Check out your local Arts and Crafts store for your favorite fabric. The fabric can be used to make draping for the venue as well as custom covers for your tables. Sheer fabrics are perfect for wedding reception decorations.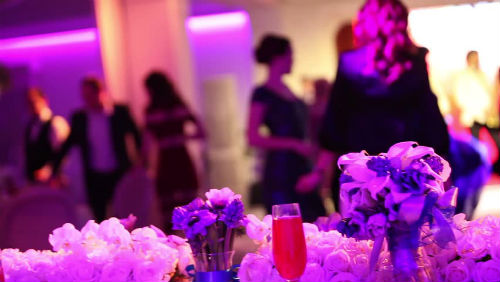 8. Turn Your Engagement Photos into a Display
You can also use your engagement photos as decor. This tip is perfect since engagement photos go unseen by many. Wedding receptions are perfect venues for showcasing engagement photos to friends and family members. You can create a beautiful collage, display the photos in frames or create a slide as part of the reception entertainment.
9. Decorate with Flowers
A while back, I attended a wedding with some very eye-catching flower displays that resembled beautiful flower balls. To be totally honest, I don't remember any other decorations apart from the flower balls. Although such flower displays are usually made by professionals, it is possible to make them yourselves using styrofoam balls and inserting flower stems into them. This would be a way cheaper option of achieving the same outcome as long as you use silk flowers or order flowers online from a wholesaler.