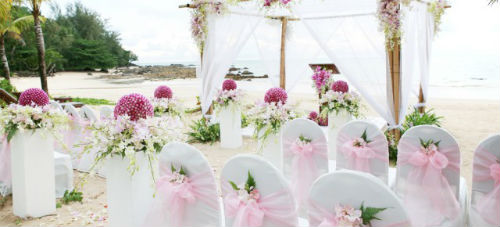 Outdoor Wedding Reception
An outdoor wedding reception idea has immense potential to offer a beautiful experience. Whether you host your reception at a pristine beach which has sparkling white waves crashing against the shore or in a beautiful garden filled with flowers and vines, your reception will be remembered for long for its natural charm.
Outdoor wedding receptions are quite advantageous. You can host unlimited guests outdoors. You can also have a lot of entertainment options for your guests. These would have not been possible otherwise, if you were hosting the reception party indoors.
Outdoor wedding receptions offer a lot more relaxed setting than receptions do. But, you must make proper arrangements to ensure that the party runs smoothly. If you are holding an outdoor party you must be prepared to handle bad weather conditions. There must be a back-up plan in place to save you if the weather gets bad. You could arrange for a make shift tent for this purpose.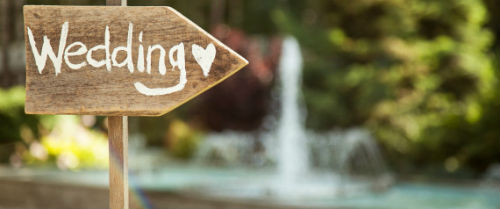 Outdoor Evening Wedding Reception
Some of the other things that you must keep in mind while arranging your outdoor wedding reception is renting tables and chairs, getting a live band or a DJ to entertain your guests and keeping a tab on weather conditions. Lighting is very important when it comes to outdoor wedding venues in Orange County. If you have planned for a reception that will go on even after sunset or one that will start after sunset you better pay attention to the outdoor wedding reception lighting. It is better to hire professionals to do up the lighting creatively. Make sure you also take care of the décor. The decorations should be done with things that are not too light and would not get displaced or damaged due to the wind. Whatever you do, always ensure that your guests are comfortable. If the weather is cold, you may consider providing heating lamps.
Outdoor Wedding Reception Lighting
Outdoor wedding receptions in Orange County also provide the perfect setting for gorgeous wedding photographs. The natural charm and beauty that an outdoor setting can offer cannot be matched by any reception hall. You can capture the beautiful and unforgettable moments of your dream reception on the camera. If you have not crossed your budget already, hiring a professional photographer would be best bet.
When hosting your outdoor wedding reception, you must give special consideration to the food. If you are hosting the reception in the summer months, it would not be a very good idea to include foods in the menu which require refrigeration. Setting up a barbecue counter would be a better choice. Foods that must be kept warm should be placed on heating plates. The drinks must be kept cold so that the guests are refreshed adequately. Hiring a professional caterer to handle the food department would be a good idea. That way the responsibility of ensuring perfection in every aspect related to food and its service, lies with the caterer.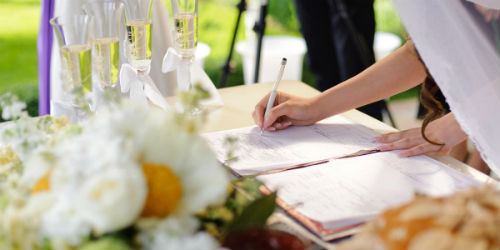 Your outdoor wedding reception can be a memorable event if handled with care and thought. Although such receptions do come with a couple of risks, if proper planning is done nothing can go wrong.