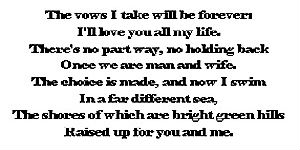 Today, most couples love the natural and deeply personal nature of putting their own wedding vows on paper. Unfortunately, most of them find it hard to put their thoughts into words and finesse them so that they spell out exactly how they feel. This challenge sounds familiar, doesn't it? The entire process of your upcoming nuptials, from checking out all of the wedding venues in Orange County to choosing the right color scheme, has been a challenge. Happily for you, this article will give you expert advice tailored to help you find the right words. Just read on….
1. Ensure everyone is on board: Some religious beliefs require that you and your spouse use specified words for specific parts or for all your wedding vows. For this reason, it is wise to talk to your wedding officiant to clear any concerns you may be having. Once this is done, hold a heart to heart conversation with your fiancé and establish whether you will draw up the vows together or you will do it individually. Further, you should determine whether you will both follow a standard structure or you will use personalized structures.
Whatever the case, it is always wise to brainstorm together and come up with the general tone. Ideally, it should sound mushy, serious and humorous.
2. Figure out exactly what to say: Other than expecting romantic sentiments to flow right from your pen as you right your vows, ask yourself several questions. What are your future to be wife unique selling points? What makes your love relationship so Wonderful? When is that time when you realized she was the right one? What does marriage mean to you personally and how do you think it will affect your current relationship?
Whatever the case, have in mind that less is more. Simply speak form your heart and be concise.
3. Consult experts: In the words of Robert Chrisman, founder of Precious Promotions, it is wise for couples to include a section of a poem, a movie or a book that has had impact on their relationship.
4 Be prepared: This is one of the most important parts of making personalized vows. You need to practice and memorize the exact words. Write them out just in case the joy of it all throws you and your soon-to-be spouse into a tizzy!