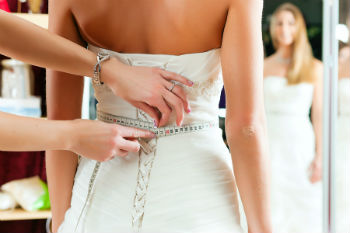 Which Dress, Which Fabric, What Are They Talking About
A Guide to Wedding Dress Fabric Terminology
Whether you're getting married for the first time, the second time or the nth time, your head will probably and is still probably reeling with the grandiosity and complexity of the wedding dress world. Being a soon-to-be bride will probably be the only time in your life that you'll acquainted to over 200 shades of white, to various lengths of trains and veils and even types of undergarments that you never even knew existed (or even understand why they do!). It is an exciting time in a girl's life to go shopping for the dress she'll be wearing down the aisle of her choice of wedding venues in Orange County.
There's really no painless way to orient yourself into the bridal world. The best you can do is call your mom, sister or most trusted friend and have them accompany you as you begin the bridal store and fitting room journey. Don't fret however, most salespeople are accustomed to having nervous brides and will be more than willing to help you out. Before you get started however, take some time to browse through designs online so you'll already have an idea as to what you're looking for. Visit my post on wedding gowns for your body shape and the don'ts of bridal shopping to prep yourself.
Once you have your design and full look in mind, it's time to go find that perfect dress. Your Orange County wedding photographer should be able to properly photograph you regardless of the material you choose. This is now the point when you realize that there is no one fabric for all wedding gowns. Most gowns are made of a combination or two or three kinds of fabrics depending on its cut and design. Here's a quick but comprehensive list for you on the most common types of fabrics and how to know if it's the right one for you.
1. Chiffon
Beach brides will fall in love with this mesh fabric made of cotton, silk or polyester. It is perfect for creating silhouette, fluidity and airiness to a dress which is perfect for a wedding set on a lovely coast, in perfect community with nature. The transparency of chiffon causes it to be used in layers or as sheer covers for sturdier fabrics. It can be used for more formal dresses as sheer sleeves.
2. Satin or Duchess Satin
It adds just the right touch of elegance and romance to any dress. It is a plain fabric with a lustrous sheen for which it is most known for. It is commonly used in formal, traditional weddings because of its heavy structure but not recommended for weddings in hot climates as it can feel hot on the skin.
3. Georgette
Light and floaty fabrics like this create a goddess charm for any bride. It is usually made of silk or polyester and moves like it has a life of own. This sheer fabric features a crepe surface that is best used for overlays or train embellishments.
4. Lace
No bride goes shopping for wedding dresses in Orange County without considering this at one point or another. Traditional and vintage-inclined brides will appreciate this open-weave more than others as it creates an old-world charm. While it is most often used as lining or details, more and more full gowns made of lace are emerging. These give a hint of allure without sacrificing the formality of the wedding gown.
5. Tulle
Ballerinas preparing for their performance down the aisle will be most familiar with this fabric. Commonly found in ballet tutus, this fabric made of silk, nylon or rayon is usually used as overlay for full skirts or made into a veil.
6. Taffeta
This structured material is used for full ball gowns or skirts because it moves with you without destroying the full shape of the gown. It is crisp and smooth with a light sheen like satin. It is most often found in traditional dresses or prom gowns.
7. Velvet
Nothing really says royalty more than velvet. It is heavy weight but has a soft luxurious feel. While it does not work well for spring or summer weddings as it can get hot, it is most recommended for winter weddings. It is a body hugging material that can generally work well on its own without any other additional fabric of a different type.
8. Brocade and Damask
These patterned fabrics are great if you don't want a lot of embellishments on top of the dress. Brocade is heavier with a more ornate design that is slightly raised from the surface of the fabric. Damask is its lighter counterpart with the same intricate design but with a finer, thinner feel.
During your dress shopping frenzy, make sure you are clear about the kind of dress that you want. This will be important for your designer or sales person to allow them to recommend the best kind of dress according to your specifications. If possible, bring a photo of a similar dress you found online or at a function or bazaar so they can critique it accurately. You may want to take some photos so that you can upload them to your site if you decide to create a wedding website.
Next, inform them about the time and season when you plan to hold your wedding. Different types of fabrics work best in different climates and the date of your wedding is a big requirement in the making of your dress. Feel free to ask for swatches of the different fabrics available so you can feel what will work best for you. If you're searching beach wedding dresses, you'll want to choose specific, lightweight fabrics. Also make sure he or she details the fabric to be used for every part of your dress so you can approve it before it goes into production or alteration.
If you're not satisfied with making a decision solely based on how the swatch feels like, try to ask if there's a dress in the fabric you like that you can try on just to know exactly how you and your skin will react to it. Some fabrics may feel okay when touched by the hand, but feel differently when it's actually attached to your body. Just go for something that you're most comfortable with and can move around in without any hassle. It's going to be a long day for you so you don't want to find yourself itching your way across the aisle!
by Kerry Johnson – Follow Kerry on G+!