You just don't know how it can hurt you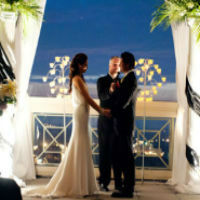 There seems to be no greater happiness than in walking down the aisle towards the one you will pledge the rest of your life to. In that moment, you'll probably have tears in your eyes and nerves in every part of your body, as you look through that surreal glass at all the people with their eyes on you. Wait, all those people have their eyes on you. This makes most brides-to-be stop and rethink how they envision their day, and even more so, how they see themselves looking on their wedding day.
While most people would claim that there is no ugly bride, brides know more than anyone else, how great of a pressure there is to show up looking all dressed up and stunning without other people realizing that the butterflies in your tummy seem to have started a 10k race for the past hour. No one will be able to see through your veil how you're struggling to keep the tears from ruining your makeup and at the same time walk straight in the stiletto heels that seemed like such a bright idea when you bought them. These are just some of the jitters that are enough to give any bride cold feet.
So what most brides-to-be do is shop for perfect wedding dresses Orange County as it is the sole element that can keep her together under all the insane pressure. Whether on a budget or armed with a limitless fund, there are similar mistakes that brides make which go around and chase them in the end. To keep you from falling into the same trap, take note of these little mishaps to avoid in your quest for your dream Orange County wedding dress.
1. Not Having a Budget
While we all want to believe we've got a stash as deep as that of the Queen, most of us don't. Some brides choose not to set a budget before finding a wedding dress in the guise of canvassing first the range of prices to set a ballpark figure that's smack in the middle. While we believe you've got good intentions for doing so, this can immediately turn into a trap with you making excuses for an extravagant purchase that you claim to just fall in love with at first sight.
If you have absolutely no idea how much Orange County wedding dresses can cost and how much other brides spend for theirs, try to work with your personal budget instead. Make a cost estimate of all your wedding expenses and gauge from that the amount that you can comfortably allot for your wedding dress. Keep this in mind as you are touring the wedding venues in Orange County. You may need to consult with your groom on this especially if he is footing for half or most of the bill. Embrace your inner tendency to go all shopaholic when out in the streets and make the necessary financial precautions before you even step foot out the door.
2. Generalizing bridal gown (and label) sizing
Apart from the material, bridal gowns vary in a lot of ways with regular dresses or even your corporate outfit. There are certain allowances that need to be observed as well as accurate measurements to be taken depending on the design of your gown. Don't think that because you've been a size 6 all your life that you'll be an exact size 6 on your wedding gown as well. Always make sure to have your measurements taken so your designer will know exactly how to craft your piece. Also, keep your measurements in mind when looking at beach wedding dresses.
If you're planning on buying a ready to wear gown, take as much time as you need to try it on and take not of any alterations that need to be done. Make sure your sales consultant knows exactly which parts to trim down and which parts to keep. More than just having her mark the areas in the gown that need work, ask her to take your measurements as well so she can compare it to the finished product. Don't hesitate to request for further alteration if the gown still doesn't fit you like a glove. You're the bride and this is your day we're talking about.
3. Taking the whole wedding entourage shopping
They might be your closest, dearest friends, or your soon-to-be hubby's lonely cousin that needs some cheering up, but you don't need your 10 bridesmaids with you in the dressing room. It's always good to consult when it comes to wedding dresses Orange County shopping but you won't be happy with 10 or more voices chirping in your ear with wildly different opinions. This can put unnecessary pressure on you to decide and you might even begin to lose your personal vision three stores down the line. Don't forget: you can always take pictures of the dresses, even use the opportunity to start a wedding hashtag(#)! Take your mom, sister or trusted friend with you but no more than at least three people to bounce ideas off of. It will be best too if you already have an idea of the design you wish to find so you won't lose track despite the myriad dresses you'll probably end up sifting through.
These simple reminders can spell the difference between red-carpet fab and red-carpet not on your wedding day. It will also save you from having more problems down the line with your finances and preferences. Make sure you're true to yourself no matter what and always speak your mind. You have every right to voice your opinion because it is you that will be walking under all the lights and all the eyes on the most important day of your life. You don't need problems when your Orange County wedding photographer is trying to get the perfect angle.
Keep in mind as well that it's always best to start early with dress shopping, but not too early that you won't be able to account for changes in style and miss out on big discounts in just a few months. A year is ample time to start looking for options, but you'll be better off going out for a purchase seven months prior to your wedding day. This will give you time to observe your body and the changes that it is going through. In the right time and with the right amount of creativity, you'll be nothing less, absolutely nothing less–than absolutely perfect.
by Kerry Johnson – Follow Kerry on G+!