Some of the Best Wedding Venues In Garden Grove
There are many wonderful places in Garden Grove and throughout Orange County for wedding ceremonies and receptions. Here are a few top rated facilities you may want to take into consideration.
Furiwa Restaurant
For well over two decades, Furiwa Chinese Seafood Restaurant has been offering the very best seafood, Dim Sum, and family cuisine in Orange County. Their menu will take you on a world tour of delicious, authentic foods that go back to Hong Kong's amazing history of foods. This is the perfect place to have a romantic dinner for two in this recently renovated restaurant or, better yet, plan your wedding reception that will promise the very best moments on your wedding day. Furiwa will guarantee the very best dining experience for both you and your guests.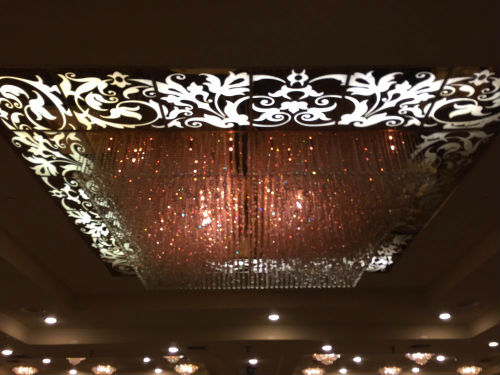 Weddings at Furiwa Restaurant
You will have an atmosphere of luxurious beauty that is uncompromising. Their recently renovated dinning room accommodates all different kinds of events, from birthday parties to wedding receptions. The room's design is open and spacious with beautiful, vibrant colors and a wonderful atmosphere. During the night hours, their chandeliers will fill the room with a dazzling spectrum of light. You will love their ballroom chairs that offer a welcoming and comfortable aura for your reception.
Give them a call and see what their exceptional staff will do for you. They offer a very professional team that guarantees your wedding reception will be a great success!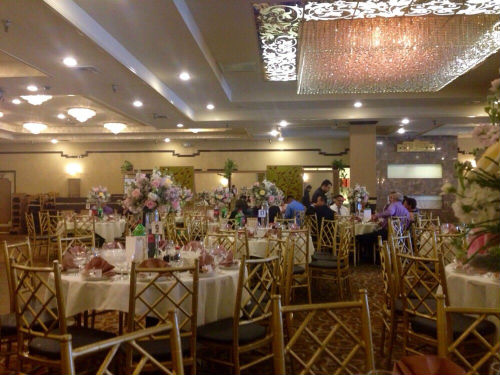 Furiwa Chinese Seafood Restaurant
714-534-3996
13826 Brookhurst St
Garden Grove, CA 92843
http://www.furiwa.com/
Diamond Seafood Palace
Located in Garden Grove, Diamond Seafood Palace is considered by many to be one of the top wedding venues in Orange County. Not only do they offer the most delicious, authentic Chinese-Vietnamese dishes but will give you the perfect and most elaborate wedding celebration anyone could hope for. Their event specialists are ready to sit down with you and plan the perfect wedding reception; exactly the way you want it to be. Let them show you what Diamond's wedding banquet services can offer you, you will be amazed. Their beautiful banquet room is draped in stunning beauty with its gorgeous décor, accommodated with a huge dance floor, live band and DJ and all will be customized to suit your particular taste.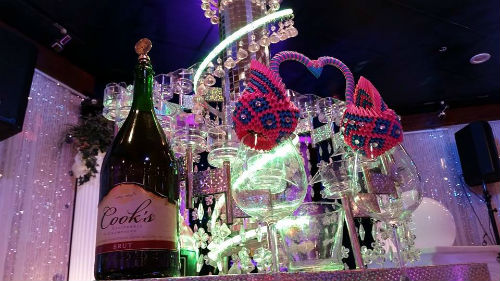 They have a large selection of color schemes, wall fabrics, lighting and so much more! You are also welcome to bring your own items and equipment to make your reception uniquely yours.
Diamond Seafood Palace offers a wonderful area, out back, for perfect wedding photos you're sure to love. Their staff will be with you every step of the way to accommodate all your wedding needs and those of your guests. They are there to work very closely with you from start to finish. If you are looking for a truly unique, beautiful wedding reception, you should not overlook Diamond Seafood Palace in Garden Grove.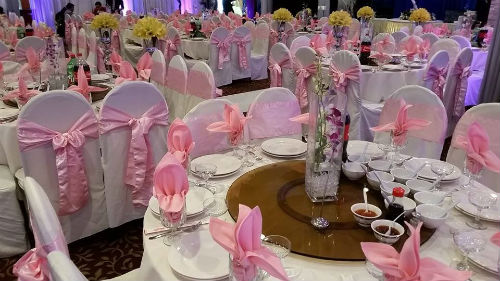 Diamond Seafood Palace
714-891-5347
8058 Lampson Ave
Garden Grove, CA 92841
http://www.diamondseafoodpalaceoc.com/
Mon Cheri Restaurant
Their exquisite, recently renovated facility is absolutely worth taking a look at. With their newly custom draperies, granite dance floor, enormous, gorgeous chandeliers and state-of-the-art lighting features will take your breath away! Mon Cheri restaurant is more than able to accommodate all your wedding plans.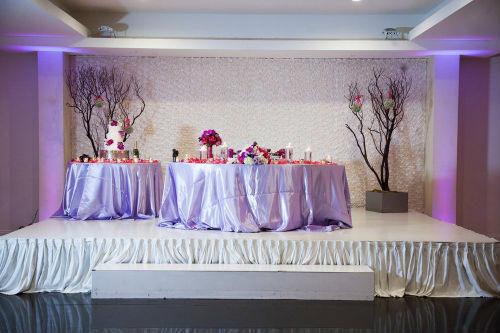 Their experienced, professional team knows that your requirements are of the utmost importance and their experienced staff will make sure each requirement is met. They are dedicated to creating an event that truly represents your personal tastes and style. Their goal is to make sure every detail is immaculately perfect for the greatest comfort and memorable celebration.
Outside their gorgeous facility, each event receives the best attention to detail no matter if it's a small, intimate gathering or a reception that is elaborate. Their professional staff will be here to help you through every step of the entire process, in order to ensure your visions become realities. Their attitude, attention to even the smallest of details, and professionalism are top notch. Your celebration will proceed effortlessly while becoming a great success that will be remembered by everyone for years to come!
Mon Cheri restaurant offers menu creations that are customized to your taste by their personal executive chefs. You will be offered a large array of optional amenities including personalized confectioners' table, beautifully designed sashes and luxurious linens in an assortment of colors to match your wedding theme.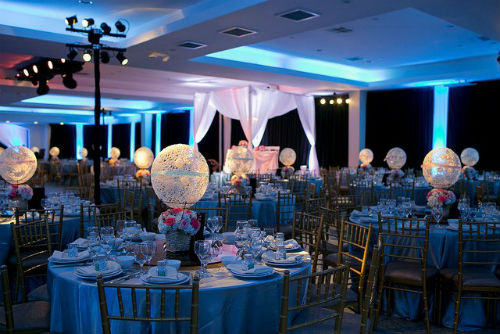 Give Mon Cheri a call, you will not be disappointed! Plan on being pleasantly surprised with every aspect of one of the best-known Garden Grove wedding venues!
Mon Cheri Restaurant
714-530-4606
12821 Harbor Blvd
Garden Grove, CA 92840
http://moncherirestaurant.com/
Sheraton Garden Grove
Planning for your wedding is quite chaotic, with a list of things to carry out that seems endless. Your wedding day should be perfect for a lifetime of wonderful memories. Let the people at Sheraton in Garden Grove help you make your dreams come true by taking care of your special day. The staff is there to ensure everything runs smoothly and perfectly. At Sheraton Garden Grove, you will be met by a team of professional planners that will sit down with you and help you create the perfect wedding celebration. Their facilities will create the perfect ceremony and reception exactly the way you want it done. You are going to fall in love with Sheraton Garden Grove.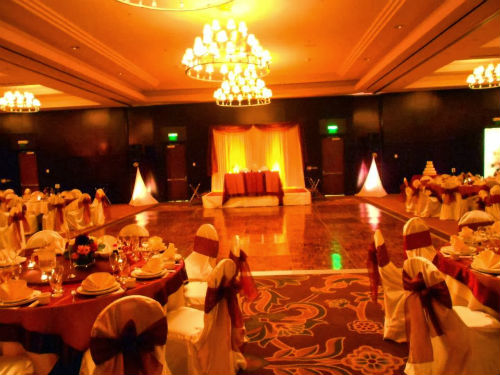 There are many benefits in choosing Sheraton Garden Grove for your wedding day. Here are just a few:
You will receive special rates for your guests from out of town.
They will professionally stage your wedding entertainment.
You will receive unmatched wedding catering skills.
Their professional, expert event planning team will be with you to ensure you have the perfect wedding day. Their experienced staff will be totally focused on your every need and desire. Sheraton Garden Grove's gorgeous Crystal Sand Ballroom, located on the first floor, offers beautiful, natural lighting that is amazing. Their sophisticated, elegant ballroom offers stunning décor, a spacious foyer, a beautiful skylight and dazzling chandeliers. The ballroom is very spacious and can accommodate up to 450 guests.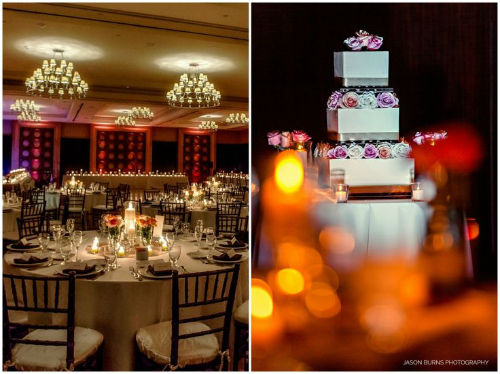 The wedding coordinators at Sheraton Garden Grove are dedicated to making sure every last detail is met to guarantee perfection. Their ultimate goal is creating a special event that will be remembered by everyone for years to come!
Sheraton Garden Grove
714-703-8400
12221 Harbor Blvd
Garden Grove, CA 92840
http://www.sheratonanaheimsouth.com/
Wyndham Garden Grove For Your Wedding Plans
Located in beautiful Orange County California, the Wyndham Garden Grove is the perfect place for your wedding plans. Situated between the scenic cities of Garden Grove and Anaheim, you are just a short drive to beautiful beaches, the legendary Disneyland, and of course world renowned Los Angeles. Wyndham Garden Grove is the perfect place for your wedding day.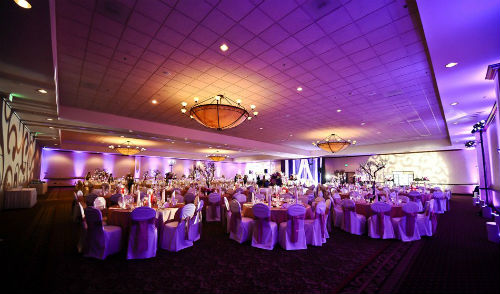 Whether you want a quaint party of 50 friends and family or an extravagant celebration with 850 guests, Wyndham will make sure you experience nothing but the best on your wedding day. Their friendly wedding specialists are ready to help you create your perfect special day, down to every single detail. The Wyndham Garden Grove is one of the ultimate Garden Grove wedding venues with their gorgeous, recently renovated space and finely detailed cuisine.
You will discover over 36,000 square feet of exquisite, flexible space, including 2 ballrooms; one offering enough space for 850 guests, comfortably, for your sit down banquet. Every event room offers high ceilings and is elegantly designed.
Their Executive Chef will offer customized menus to ensure you have the perfect wedding reception meal. There are 376 spacious, elegant guest rooms for your guests' comfort. These guests rooms are within walking distance to tons of sights and activities in Garden Grove and Anaheim, including Disneyland.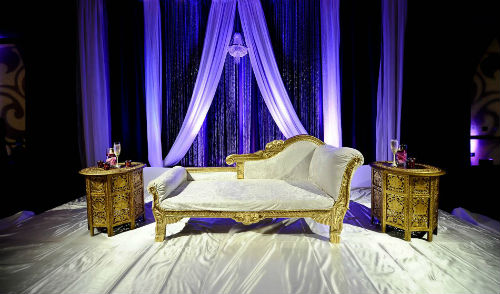 Wyndham Garden Grove has a beautiful outdoor patio that is absolutely the most picturesque atmosphere for your wedding ceremony, pre-celebratory cocktails or fashionable reception. Wyndham is committed to making your wedding the most memorable event in your life. They know you deserve the highest attention to detail from their dedicated staff. They also offer special group rates that are hard to beat! Their staff would love to help you plan the perfect event for you and your guests. Give them a call; their wedding professionals are ready to help you plan and host your wonderful wedding day at the Wyndham Garden Grove!
Wyndham Garden Grove
714-867-5555
12021 Harbor Blvd
Anaheim, CA 92840
http://www.wyndham.com/hotels/california/anaheim/wyndham-anaheim-garden-grove/hotel-overview
Marriott Garden Grove
Marriott Suites offers the perfect backdrop for your wedding celebration. This is an exceptional Orange County wedding venue that will create a perfect event to be remembered for years! Their highly skilled and trained wedding staff are here for you, from the first moment to the very end, to ensure you have a wonderful, smoothly run event.

If you are looking for a fairy tale wedding, you couldn't ask for a more romantic location. Surrounded by Disneyland, the Marriott Suites in Garden Grove is what you are looking for. Discover their Crystal Ballroom that will take your breath away! The staff of Marriott will make sure you and your guests leave with a lifetime of memories!
Marriott Suites in Garden Grove can easily accommodate both national and international wedding plans. Each plan is tailored to your exact needs with a seemingly limitless options, including accommodations, ceremonies, rehearsal dinners and reception services.
Their Certified Orange County Wedding Planners have the experience and dedication to ensure your dream wedding goes off without a hitch. Weddings are not just imagined, they must be correctly planned and this team is trained to make that happen. They are well versed in every type of wedding requirement including ethnic and military weddings! Whether you are looking for a traditional, old-fashioned, fairy tale or a more modern theme; you will have the wedding you are looking for. Their certified wedding planners will help you bring your vision into reality while executing every detail with precision.
Some of the benefits of choosing Marriott Garden Grove to bring your vision to reality include:
Setting your budget to fit your financial needs
Planning the perfect menu that will please you and your guests alike
The perfect table settings and arrangements
Helping you choose the best florists for your taste
Expert wedding photographers
The perfect band, if you wish, and other entertainment that matches you specific likes
And so much more…
The Accommodations For Your Guests at Marriott Garden Grove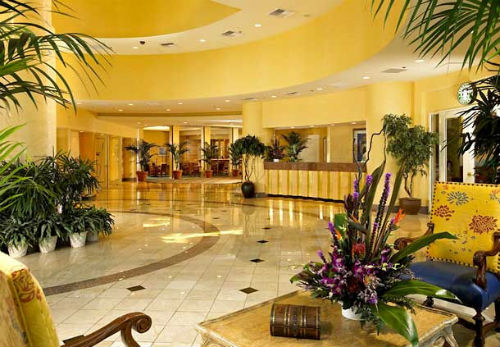 Your out-of-town guests will enjoy competitive special rates when they arrive for your Orange County wedding. They will be pleasantly surprised with the exceptional guest rooms and on-site dining options. You and your guests can enjoy Marriott's clean, heated outside pool and whirlpool to relax in. They also offer a wonderful 24-hour fitness room and shuttle service to help your guests get around, as well as getting to and from the airport. Your guests will be treated like royalty, offering everything they could possibly need for their exceptionally memorable stay at Marriott Suites Garden Grove! Give them a call, sit down with their exceptional staff and watch the magic unfold with one of the most popular Garden Grove wedding venues!
Marriott Suites in Garden Grove
714-750-1000
12015 Harbor Blvd
Garden Grove, CA 92840
http://www.marriott.com/hotels/travel/snaas-anaheim-marriott-suites/
Searching the Garden Grove Wedding Venues
In Orange County, there are many places catering to wedding ceremonies, receptions and many other events. Finding the wedding venue in Garden Grove that will work best for your specific needs can be a daunting task. Your wedding, of course, will be a once in a lifetime celebration. You want to be sure you pick a facility that has the experience and know-how to help you carry out perfection. As the top Orange County wedding directory, we know how special this is for you and do everything we can to make sure you are guided to the creme de la creme in venues, caterers, wedding photographers, wedding transportation and more to ensure your dreams come true.
We hope these chosen Garden Grove wedding venues will help you create the perfect wedding, reception and excellent memories for your special day. These places are all top-rated, have years of experience when it comes to wedding planning and will work with you every step of the way. Talk with them, see what they have to offer, and get ready for an experience of a lifetime!
We carefully, pick and choose what we consider some of the finest places in the Orange County area. We look for years of experience, the teams of professionals all of the Orange County wedding venues offer, and the packages and plans they are able to provide. We do recommend you contact each facility, sit down and speak with them to see if they fit what you are looking for. Always discuss their packages and see if they fit into your financial parameters. All these places will work with you and do offer various plans to meet your needs.