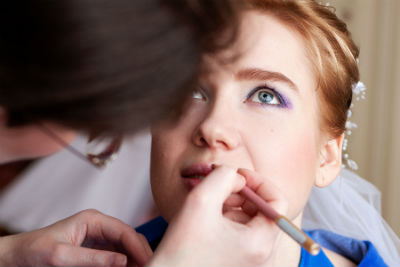 Your wedding day has to be nothing less than perfect. Everything has to turn out right, and the last thing you would ever want is to end up with muddled wedding makeup.
Creating a wedding makeup may appear like a simple thing to do, but of course; it's not. Remember, this is the day when all sorts of events will actually be revolving around you. Despite all the kissing, hugging, eating and dancing, you should be able to rest assured your makeup will last the whole day. That's to say you'll probably need to proof everything—from the lips to be kissed, the mascara to the skin makeup. this is where a professional makeup artist in Orange County.
More importantly, your goal should be to highlight your best features—but not to display your makeup application skills. That said, everything has to be kept simple but pretty.
Now if you're planning to hire a professional makeup artist in Orange County to do your makeup on this special day, let him or her know what you exactly want from the makeup. If you want a specific color or, say, something bolder, then the makeup artist should be able to provide exactly that. After all, you're the one to dictate how the day goes since this is actually your big day.
Most people tend to forget their décolleté even when their wedding dress is showing it. For final touches on your looks, be sure to apply little amounts of soft shimmer on the low-cut.
Please note; some powders and foundations tend to look differently in pictures when reflected by light. To ensure that anything doesn't go wrong on your big day, try to get your makeup photographed and checked a day before your wedding day. Also important, the foundation down your neck should perfectly blend with your face when the makeup gets done.
For facial treatments, it's advisable to get them a week before your wedding day. Actually, the skin sometimes gets irritated after the treatment, and it can actually stay that way for a couple of days.
When it comes to brows, they should be plucked, shaped or dyed a day or two before the D-day. If you make a mistake of plucking them on your wedding day, you may risk appearing on your wedding with red, irritated and swollen brows.
Now if you have any intention of wearing contact lenses during your wedding, then do so before you apply the makeup.
Stress has been known for triggering impurities on the skin. As any makeup artist in Orange County will tell you, you should try your level best to avoid stress. And if you happen to get some impurities before your big day, don't pick at them–this will only worsen the condition. Also, try sleeping on a clean pillowcase every night and drinking plenty of water (while avoiding excess milk, sugars and carbonated beverages). And since your skin reflects whatever you eat, it's recommended that you eat plenty of fruits and veggies to maintain a healthy skin.
Blushes
To add more life on your skin, you can use a delicate blush on the apples of your cheeks. It actually helps to get rid of the pale look.
Mascaras
Since you're more than likely to shed tears (a dozen times) during your wedding day, it's advisable to use waterproof mascara for your makeup. Even though most people prefer black mascara, brown mascara is actually better for an enhanced natural look. An experienced makeup artist in Orange County will be able to advise you on this.
Lips
The lip color you choose for your wedding makeup should be a lasting one. If not, then choose one that matches the outfit of your groom–to avoid creating noticeable lip-stains on his outfit. Plus, you'll need a good lip-stain that gives your lips a nice color for the pictures your OC wedding photographer will be able to get and can actually last for hours, as well. To prevent your lipstick from bleeding, be sure to use a lip liner. But be keen to ensure the lip liner you choose matches your lipstick and lip gloss perfectly well.
Foundation
Lastly, your foundation must match your skin tone. To check this, use both artificial and natural light, or try looking in photos for how your base makeup looks—Does it match your skin tone? Or is it lighter or darker? To avoid looking cakey, try using translucent powder to set the foundation.
Cosmetic Treatments?!?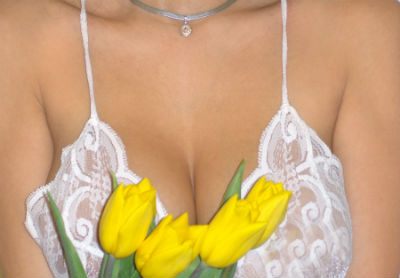 Every woman dreams of having a perfect wedding and this includes being beautiful on the big day. Of course, every bride wants to look their best during the event. Mostly, women who are about to get married would resort to beauty or diet regime a few months before the exact wedding date, in order to look and feel beautiful as they walk down the aisle. Many brides don't spend much time considering how an Orange County makeup artist will fit into their wedding day. And also, weddings are about being picture perfect. With this, in recent years, brides had to undergo fake tans and regular facials. No matter what type of beauty regime you use, certain things have to considered. That's what our OC Directory can help you with. Now, read further.
1. Laser Teeth Whitening
With the advent of modern technology, laser teeth whitening can be done before your wedding to have that perfect smile. It is a simple and effective way of achieving a fresh look for the big event. And also, laser teeth whitening can also help you look few years younger. The best thing about this procedure is that it is relatively cost effective and it doesn't take very long. It would be best if the couple undergoes laser teeth whitening. If you decide to undergo this type of procedure, bring your fiance with you. With this, both of you can have a perfect set of wedding photos.
2. Cosmetic Surgery Such As Breast Enlargement
If you have been thinking of a nose job or breast enlargement, perhaps, it is the right time to pursue this particular plan. However, keep in mind that this may lead to a dramatic transformation specifically in the way you look. This may leave you feeling conscious. You may find yourself looking at your wedding photos with a bride that doesn't look like you.
There is nothing wrong with cosmetic surgery. However, it is best to have it done at least 6 months before your wedding day. This will give you and your fiance enough time to adjust to the new you. On the other hand, if you want to undergo breast enlargement, it must be done before choosing your bridal gown in order to avoid problems.
3. Botox And Other Skin Care Treatments
One way of achieving a youthful glow is through skin treatments such as botox, skin peels, etc. These procedures are a real confidence booster because they can get rid of scars, wrinkles, and other skin imperfections.
However, it must be noted that some procedures may lead to overly frozen look or bruising. With this, it would be great to have them done about 6 weeks before your wedding day. A skin peel, on the other hand, is not advisable to newlyweds who would like to spend their honeymoon at the beach.
4. Keep Everything Subtle And Simple
Needless to say, every bride wants to look her best. Thanks to the different cosmetic treatments, it is easier to look and feel beautiful during your wedding day. However, you need to remember that your fiance fell in love with the real you. So, if you have made a decision to undergo a cosmetic treatment, it is best to keep any changes simple and subtle. And also, do not forget to enjoy your big day.
by Kerry Johnson – Follow Kerry on G+!