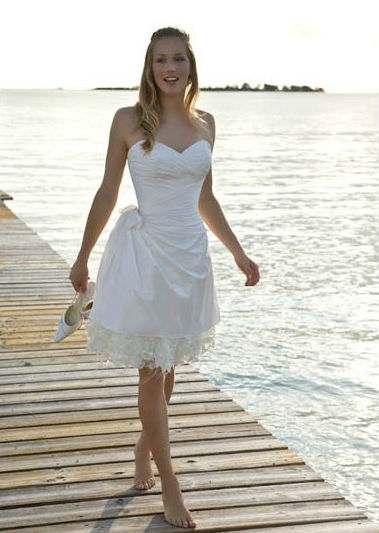 Dreaming of a wedding in the sand? The long train, the demure wedding veil, the elaborate design of a traditional wedding dress may be what you envision when you daydream about your wedding dress. They may all seem right in a traditional setting, but in a Newport Beach wedding it can be a drag and can feel a little out of place. You wouldn't want to spend time carrying way too much heavy fabric and worrying about your gown accumulating lots of sand, would you? Your wedding day should be fun and stress-free!
Since beach weddings are all sandy and windy, you may want to avoid beach wedding dresses with very long trails and veils as they are sure to get dirty. Opt for short beach wedding dresses that won't leave you sweaty and won't make it difficult for you to move. You may also want to consider short beach wedding dresses that will enable you to flaunt your distinctive style. Here are some sand-friendly short wedding dress designs that are actually stunning:
1. Strapless
One of the most popular choices for brides dreaming for a beach wedding is the strapless wedding dress. A strapless beach wedding dress offers a more exposed look and a breezy feel, all adding to a beachy vibe. A strapless short bridal gown paired with the right accessories such as a fresh floral headdress will give any bride a classy and refined look for that special day.
2. Halter
Halter beach wedding dresses are perfect for brides wanting to show off their sexy back and bare shoulders and arms. The halter neckline designs can be flattering and sexy for brides with large or small chests. With a halter short wedding dress, any bride can look can look seductive, feminine and stylish.
3. One shoulder
The one-shoulder beach wedding dress will look perfect on all body types. This wedding dress style allows the bride to show some skin and feel sexy without being too revealing.
4. Spaghetti-strap
White spaghetti straps are perfect for brides with smaller chests and should be avoided by those who have narrow shoulders.
5. Key-hole
A Keyhole beach wedding dress can make any conservative bride look elegant and feel a little sexy. This latest trend in wedding dresses allows brides to show off their sexy back and be comfortable at the same time.
6. Vintage-inspired
A vintage-inspired beach wedding dress is the perfect choice for a bride who loves anything vintage. Vintage-inspired Orange County wedding dresses are timeless, stylish and can make any bride stand out.
Silk and satin may not be appropriate for a hot outdoor summer wedding. Orange County Beach wedding dresses should be made of light, flowing fabrics, such as tulle and chiffon as these fabrics breathe better and can help you stay cool and comfortable under the sun.
Now, whoever says you need to a full-length wedding dress in order to be fabulous? Go ahead -show off your legs with a short beach wedding dress and enjoy your big day at the beach!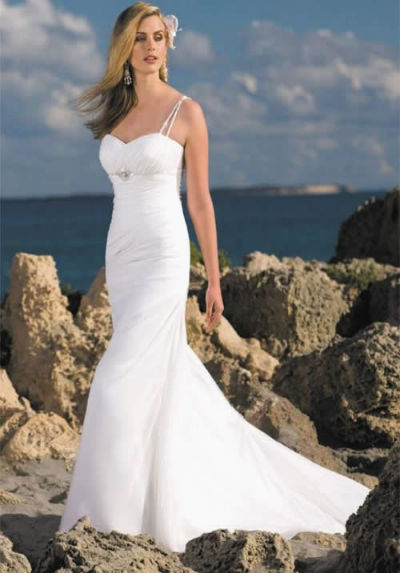 Where To Find Beach Wedding Dresses Online
Many women dream of a wedding in a church, or in a castle, but non-traditional brides daydream about a wedding at the beach. Beach weddings are quickly becoming the new favorite as more couples opt for a more casual and relaxed setting for their big day. Beach wedding venues in Orange County are totally unforgettable, unique, and they are one of the most romantic ways to tie the knot.
If you are one of the brides of today who are willing to break with tradition and choose a beach wedding, you may be looking for the perfect beach wedding dress that will transform you into the bride of your dreams. Take the hassle out of physically going to a store and consider these online stores to fulfill your wedding dress fantasy:
1. J.crew
From simple to sophisticated, you are sure to find a J.Crew summer-weight wedding dress that will make you look like a princess. J.Crew's wedding dress collection starts at $295 for a short dress and $500 for a wedding gown.
2. Net-a-Porter
Net a porter allows you to say "I do" in style. They offer chicest wedding dresses to make sure you look exquisite on your special day.
3. Bloomingdale's
If you are looking for modern bridal styles, Bloomingdale's is your ultimate shopping resource. Bloomingdale's carries a collection of exquisite wedding dresses from wedding stars such as Sue Wong and Vera Wang.
4. Shopbop's Wedding Boutique
Shopbop carries an extensive selection of designer gowns from designers such as Reem Acra and Tadashi Shoji. Many of these wedding dresses range from $195 to $5,000.
5. David's Bridal
The largest American bridal-store chain, David's Bridal offers affordable wedding dresses to fit many styles and sizes. They boast a large selection of designer wedding gowns as well as bridesmaid dresses that are affordable yet incredibly stylish.
6. BHLDN
Whatever your style, BHLDN has you covered. BHLDN Offers a wide assortment of wedding dresses for brides looking for something a bit different.
7. Neiman Marcus
This high-end iconic store carries the most incredible collection of wedding dress that will surely make you look your best on your wedding day. The store features a blend of style and savings so it's easy to get the look you want.
8. Nordstrom
Nordstrom features dreamy beach wedding dresses to make your dream wedding a reality. Styles on their store vary from short and sassy, to long and flowing, each unique and magically beautiful.
9. eDressMe
eDressMe sells stylish beach bridal gowns from renown brands such as Mac Duggal and Aidan Mattox. They offer good bargains on top-quality wedding dresses that are to die-for. If you are looking for a designer beach wedding dress on a budget, this is the online shop to check out.
When looking for beach wedding dresses, you no longer have to spend time going from store to store for the best prices and style. Online wedding shops are great for spotting the latest trends and the best deals on wedding dresses, so skip the exhausting store-to-store hustle and consider these online wedding shops for your big day.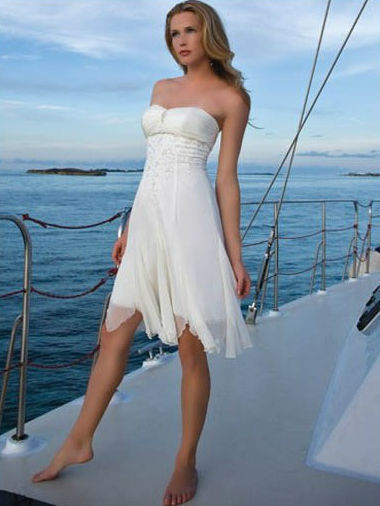 by Kerry Johnson – Follow Kerry on G+!